Redfish Fishing Guides in New Smyrna Beach
Hello there, it's Captain Austin bringing you the April fishing report for the New Smyrna Beach area. The past few weeks have seen things really pick up on the fishing front. From the backwaters to the inlet and off the beach, the fish have become very active making for some amazing catches. I expect the fishing to only get better as we move closer to summer. I have been fortunate to have some really great charters fish with me and I understand that Redfish Guides in New Smyrna Beach are everywhere and there any many great captains to choose  from. I am truly blessed to have such an incredible profession doing what I love!
When the weather cooperates we get a chance to venture offshore a few miles to fish the local reefs and wrecks.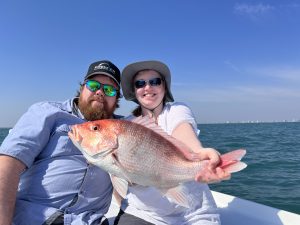 Most good bottom structure will  hold red snapper and we've been fortunate to get in some action with these tasty critters. An added benefit to fishing structure is that at any time a cobia might pop up. Make sure you are ready with a live bait or brightly colored jig. Cobia fishing is a lot of fun and this time of year depending on the water temperatures it can really make our charter clients day. Not only are cobia fun to catch but they are also fantastic to eat.
Redfish and snook catches are increasing every week and our clients have been catching some really large fish. Tides play a big part in catching both redfish and snook and if you are not in the right place at the right time, your chances for success are diminished.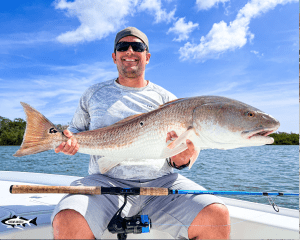 Both fish respond strongly to live bait so it's probably a good idea to make an effort to get some. In most years April is when the our best fishing for Redfish and Snook starts. The consistent weather and increasing water temperatures is what gets them going. Bait like mullet, pinfish, croakers or shrimp will be the ticket to some good sized fish. When the fishing is good double and triple hook ups can be common and when battling these large fish some luck is needed to land all of them!
Another reason to be excited for spring time is the shark fishing. From blacktips to spinners these guys will be common along the beach and they can be a lot of fun to catch. The great thing about shark fishing is that you don't necessarily need a boat to catch them. Surf fishing anglers have a good shot of catching one of these sharks if they have the proper tackle. A couple feet of wire leader tied to 60 pound or heaver mono leader should get the job done. Most of these sharks are 40 – 80 pounds with some over 100. Just make sure you use caution while landing them for obvious reasons. One downfall to having all these sharks around is that they can make landing redfish very difficult at times. On multiple occasions we have had the sharks eat fish that we were fighting. In most case bull sharks are the culprit and they can be ravenous at times!
Hope you enjoyed the report and check back with us next month. If you are interested in coming fishing with us call or text (386) 689-9056. When you are looking for Redfish Guides in New Smyrna Beach please keep us in mind.