Fishing Guides in New Smyrna Beach - A lot to choose from
November is the time of the year when our northern friends start to fly south for the winter. It also means an increase in people looking to book a fishing charter. This is especially true around Thanksgiving, Christmas and New Years Eve. Fortunately from the clients perspective there are many of fishing guides in New Smyrna Beach to choose from. The toughest decision is how do you choose the best one? Sure we know the word "best" is subjective and we think our guide service – Chews Wisely and Captain Austin is good as any one out there.  
If you do a search online for fishing guides in New Smyrna Beach, you get pages of information including YouTube Videos. Sites like Google, Trip Advisor and Yelp are all good places to start. A more unconventional method is to contact the local fishing retail stores.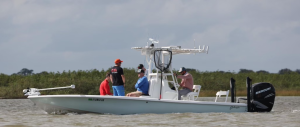 In  our area, New Smyrna Beach Outfitters is a good place to ask because they know many of the guides that are reputable as they fish along side them. Instagram is another good source and it's alway fun to look at all the cool pictures. 
If you do select a charter make sure he's a full time guide with their  Coast Guard Captains License. Most of all the guides online are licensed but many are not full time guides that are out there on the water several  times a week. The importance of hiring a full time guide can not be overstated. When interviewing potential guides for hire, ask them how many days are they on the water. Any guide worth their salt is spending at least 200 days on the water fishing every year. 
Early November Fishing Report 
Slowly and very deliberately the fishing is getting back to normal for this time of year. What does that ususlly mean?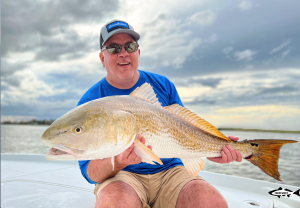 The fish are where they should be and we like that! We have had a few small cool fronts come through and that sends a signal to the fish that get them ready for the winter when they become the least active. Temperature and light are what the fish use as a gauge to tell them that winter is on the way. Winters in our part of Florida can vary greatly with some winters in the 70s everyday and gorgeous conditions. Others years it's flat out cold and doesn't feel like Florida with temps going below freezing for more than a few days. 
Our charters have been catching some real nice black drum and one charter in particular landed one of the biggest drum we have ever seen. The fish was around 60 pounds and fought like a bull dog. The picture of the fish is at the top of this report. Black drum are the largest of all drum and can get over 100 pounds. As a general rule we catch more of them in the winter and we should see more fish caught as we go in late fall and winter.
Red fishing has become more consistent in the last week and fishing on the right tides has been producing for our charters.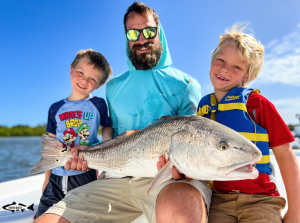 The size of the fish have been varying with the average being around 30-35 inches. This size fish is perfect for  kids  and  less  experienced  anglers.  Both redfish and black drum absolutely love crabs and  action  can  be  fast  and  furious  if  you know where the fish are holding.  This is a great time of year to take the kids out fishing because the weather is  comfortable and there is a lot to see out on the water. In addition to the fishing there is a lot of wildlife around.
We have open dates around Christmas time so call or text  (386) 689-9056 to schedule your trip. Until next, we hope to see you out on the water.