Holiday Fishing Report - Fishing Guides Near Daytona Beach
Merry Christmas and Happy Holidays to everyone. It's been a crazy year with all the hurricanes and we are really looking forward to 2023! Speaking of crazy weather, the cold front that just came through is going to put a dent in the snook population. The consensus among marine biologists is that 54 degrees is the lowest water temperature snook can survive in before some will die. Our local water temperature was in the 50s with some exposed areas getting in the 40s. Fortunately, the cooling trend was gradual over several days and many snook had a chance to retreat to warmer backwaters. 
We are officially in our winter season and it's the most difficult time of year to fish.  One reason is the unpredictable weather. The week could start off warm and summer-like and the next day temperatures could plunge 50 degrees.  Fish like consistent weather and this time of year it's all over the place.  One benefit we get this time of year is the different species  we catch. Sheepshead are a welcome catch and although we do catch them in the summer months they are more willing to bite this time of year. 
The best way to target sheepshead is near any structure. Structures such as docks, rocks and pilings make good place to fish.  Like any other types of fish, they respond best to live bait.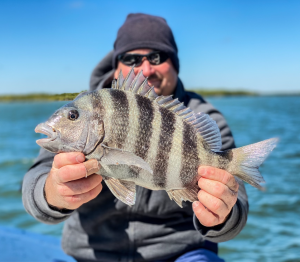 Our favorite baits include fiddler crabs, sand fleas and shrimp. Shrimp are the easiest bait to get so most of our sheepshead caught are from using shrimp. Dead bait also works but live is alway the best. Shrimp is the most commonly used bait across the entire state of Florida and with good reason. It is affordable, readily available at most fishing piers and bait shops, and most importantly – it works. In fact, the largest sheepshead ever caught was done so using live shrimp.
The black drum fishing has been consistent and our charters have gotten in some really nice catches.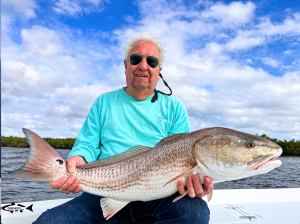 Black drum are the largest of the drum family and we can catch some big fish. While fishing for black drum we always have a decent change of coming across some big redfish. Another benefit to fishing in the wintertime is lack of boats on the water and we really like that. Many days we have the fishing all to ourselves. The vast majority of drum we catch we release. Most are way too big. Redfish of any size are off limits and black drum have to be caught between 14 to 24 inches. The bag limit is 5 fish including one fish over 24 inches.
Tripletail are around when the conditions are right. They are a deep-bodied perch-like fish with rounded dorsal and anal fins extending almost to the tail.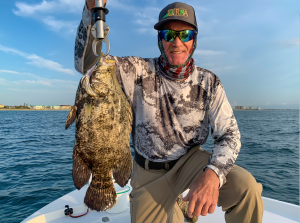 At first glance they appear to have three tails, hence the most commonly used name, tripletail. Their color varies widely, from shades of yellow brown, to dark brown or black with ill defined spots and mottling. They are fun to catch as they are often sight-fished around floating objects in the water on or near the surface. They also love hanging around or near buoys, pier pilings or floating debris, or drifting along with currents imitating other buoyant objects.
Other fish we like to target in the wintertime is weakfish which are related to sea trout. In addition to the weakfish, bluefish are around and are fun to catch due to their aggressive nature. When you find them they are usually in schools and fishing for them can be done using artificial lures. Most blue fish are a pound or two but some fish we get can be over 10 pounds. 
We hope you enjoyed the report.  Make sure you check back with us in a few weeks. If you are look for fishing guides near Daytona Beach contact us via phone or text at (386) 689-9056. We'd love to take you out. Until next time, stop wishing and go fishing!