Snook Fishing in Ponce Inlet
Hello again, it's Captain Austin with Chews Wisely fishing chatters. Looks like spring has sprung with air temperatures in the 80s and water temperatures ranging from 68 to 74 degrees. I'm not a fan of the cold and I love the springtime with all the new types of fish that migrate back to our waters again. My favorite fish to catch are starting to make themselves available on a more consistent basis. Although you can catch them year round, snook and redfish really start to get active in the spring. Tarpon are not far behind and we should start to see fish in the intracoastal first then off the beach.
Officially  winter goes until March 20th but, here in Central Florida things get going a little earlier when it comes to fishing. With the higher water temps the fish will become active and we should start to see redfish and snook fishing in the inshore waters improve greatly the next month or two. Springtime is one of my favorite times of year to fish and along with summer, its my busiest.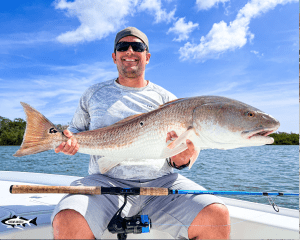 Speaking of redfish, our charters have been catching some real nice fish at night.  Most of the fish are over 30 inches with some over 40.  Currently our night time bite has been consistent but, for some reason the day time fishing has been slow.  Daytime fishing has produced some nice redfish but you really have to put your time in.  We are famous for our big redfish and there isn't many places in the word where you can consistently catch fish over 30 pounds. Another added bonus to red fishing is that you just might end up catching a big snook! 
We catch most of redfish and snook on live bait but, a little later in the spring we can target the fish with lures and when the conditions are really good, we catch them on fly rods! If you have never caught a huge Indian River redfish on fly then you definitely need to put that on your "fishing bucket list". Both snook and redfish can be caught in the creeks that feed into the intracoastal waterway. Fishing here you might also catch sea trout, mangrove snapper and black drum. Fishing with shrimp is probably the easiest way to bend a rod, with mullet coming in a close second.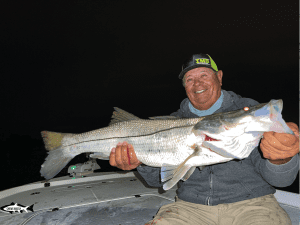 The snook fishing in Ponce Inlet and surrounding areas  can  be  challenging at times with the fish constantly traveling. The key is always moving water and bait. I always tell clients that when it comes to snook, you have to be on their schedule and that means fishing some very late nights.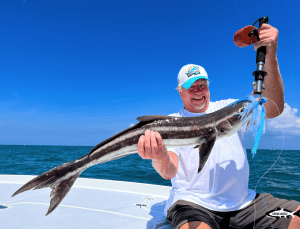 It's getting to be that time of the year when you see boats running down the beach looking for cobia. With water temps already in the high 60s the cobia could be anywhere from outside the inlet to 10 miles off the beach. This style of fishing is more like hunting then fishing. It's 100% sight fishing where you are looking for manta rays, turtles or any floating object that the cobia are attracted to. Spanish mackerel will also start to show up right of the beach and in some cases shore bound anglers can get into the action.
Hope you enjoyed the report and check back with us next month and as always we'd love to take you fishing. Snook  fishing in Ponce Inlet is always a blast and the fishing is only going to get better in the coming weeks!