Fishing Charter Ponce Inlet
October fishing in Ponce Inlet has been great as long as we don't keep getting these tropical systems thrown our way. We had a large influx of fresh water from Hurricane Ian and it has made fishing a little more difficult than normal. Prior to the storm fishing was great and right after the fishing was still great. However, in the weeks since the fish have really spread out. If you can find them you will catch them, as our fishing charter Ponce Inlet got in some great action fishing. If you have the patience, we will eventually find the fish. 
Our area of Florida has long been know as a place where you can consistently catch big redfish year round. Redfish over 40 aches are common as we are fortunate to be in an area  where we get a huge spawning population of fish in the fall and resident fish that stay near Mosquito Lagoon all year long. Redfish are great fish for beginner or novice angles as they seem to always be hungry. Hook-ups come fast and furious at times with multiple fish being fought at one time.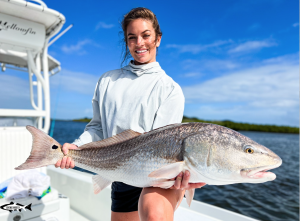 As long as you have the right bait, there is no doubt, you are gonna get bit. 
Besides the good fishing another advantage of fishing this time of year is the weather. The fall is our favorite time of year. Temperatures are around 75 to 80 degrees nearly every day and as we get into late fall the chance of rain diminishes greatly. In the summer it's common to fish at night due to the heat. In the summer, fishing in the middle of the day is often to unbearable for anglers and fish alike. Water temps this time of year range from the mid 70s to the high 60s. Fish tend to be active all day with nice comfortable temperatures. 
This month, our charters  have been fortunate to get in on some good red fishing at Ponce Inlet. As mentioned in previous reports, the fish in the inlet are spawning and have one thing in mind.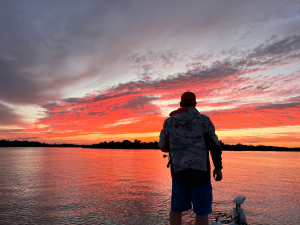 However, because they are focused on "hookin-up", they forget to eat. When a bait is presented to them, the bite is instantaneous. Redfish are great fighters and it's especially fun to watch our charters battle multiple fish at a time. Most of the people we take out fishing are amazed at how things can go from calm to near chaos when we have multiple fish on. 
Some clients ask about keeping a redfish or two to take home for dinner. Currently the laws prohibitive harvest of any redfish. We like strict laws because it ensures a fishery in the future. As conservation ethics grow stronger among saltwater sportsman, catch and release has become increasingly important.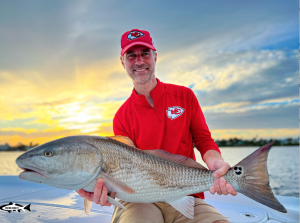 We try to educate our clients and make them aware of the  results of overfishing. The majority of angling  outings in our area result in most of the fish landed being set free. Many professional guides and sportsman go with the intention of releasing every fish that they catch. 
Snook fishing has been inconsistent at best with a few caught in the last week to or two. Again, we believe that the huge influx of fresh water from the hurricane has affected the fish. Snook are semi tropical in nature and in the next few months they will hunker down when we start getting cold fronts. We think many of the big fish will go offshore to winter. Some fish head to the creeks. As mentioned here before our snook population has really taken off the last few years because we have not had any major kills due to extreme cold weather. 
We have some open dates and are available for charters in the next couple of weeks.  Give us a call and we can put you on some real big reds and maybe a snook or two. Until next time – "Stop wishin' and lets go fishing"!