Fishing for redfish in New Smyrna Beach
We are writing this report a couple weeks after getting hit by another hurricane! Man, we can't get a break around here as Hurricane Nicole smacked us on November 10th.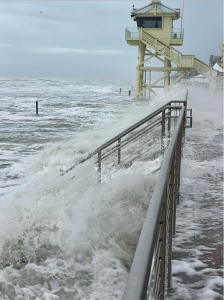 We didn't get it as bad as our neighbors to the south but still had winds gusting to over 70 mph. The real damage of this storm was the water as this storm came through during a period of super high tides called king tides.  New Smyrna Beach and Daytona Beach experienced massive beach erosion. Homes along our part of the coast had such bad erosion that some were in jeopardy of falling into to the sea!
The water levels of the intracoastal were so high you couldn't see the bridge fenders. Homes along the waterway were flooded and the beach is almost all gone in some places! Hurricane Ian back in October destroyed much of the dunes and left our coast  venerable to another storm.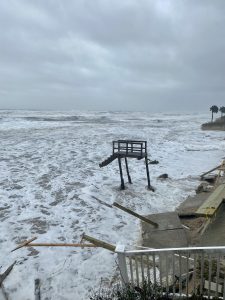 When Hurricane Nicole hit us there was nothing stopping the advancement of water. Damages are estimated at more than $481 million in a central Florida coastal counties where homes collapsed into the water. In Daytona Beach Shores and New Smyrna Beach. two dozen multi-story condo buildings have been evacuated and deemed unsafe by building inspectors.
Late November Fishing Report 
Thankfully we didn't get anywhere near the amount of rain Ian dumped on us in October. We just had super high water conditions and that really doesn't change the way we fish. For the right conditions  fishing for redfish in New Smyrna Beach you simply need current. Tides and currents have an effect on fishing especially near the inlet, but few anglers ever master the art of utilizing tides and currents to their fullest advantage. Our advantage of spending so much time on the water we are able to see the subtle change that  make a difference.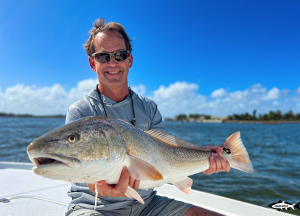 Understanding of the effects of tides and currents and knowing how to apply that knowledge to fishing  gives us a serious leg up. Many fish in our area also use structure to their advantage. This is beneficial in two ways. They can ambush their prey more easily and protect themselves from predators. Redfish and snook can be at times vulnerable to dolphin and sharks. We have seen on many occasions the predations up and close!
Fishing the right conditions, our charters have gotten into some real nice catches of redfish and black drum.  This time of year you have to pick your days as when  to fish. As cold fronts move through the wind blows hard for days and it severely limits where we can fish. Part of our job is searching or hunting for the fish.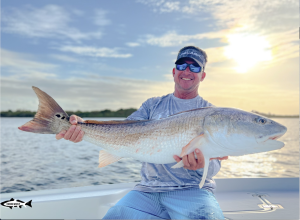 We are fortunate to have some truly amazing electronics to help in this endeavor. Redfish and black drum move around quite a bit from day to day. Once we find the fish the bite comes quickly and double and triple hook ups are possible. 
We are seeing some big black drum around and our anglers have gotten into some real strong action with big for over 40 pounds. The fish we are seeing are likely spawning fish that travel together in small groups. If you want to catch your personal best black drum, this is the place to do it. The Florida state record was caught right up the coast Fernandina Beach and was 96 pounds. All are black drum we catch are released. The larger specimens tend to have worms and are not great to eat. 
Our charter calendar in December is getting booked quickly however, we have a few days open. Call or text us at (386) 689-9056. As always hope to see you out on the water with us.