Ponce Inlet Fishing Charter
The fishing in and around the inlet has been great as the redfish and snook have become very consistent on the right tides. Our charters have gotten some really nice sized snook including one of the biggest snook we have ever caught in Ponce Inlet. Of course snook season is now open September 1st through December 15th. With open season on snook, there is definitely an increase in boat traffic. The limit is one per anger and the fish can be no smaller than 28 inches and no larger than 32 inches. 
Historically, snook populations have been up and down over the years due to many factors including changing weather patterns, habitat destruction, and over-harvesting. However, in the last 5 to 6 years we have seen a big increase in our area of Ponce Inlet. Snook are a semi-tropical species and can not tolerate  cold water for a lengthy period of time. Typically water temperatures of 60 degrees Fahrenheit and above are preferred temperature and water in the 40s can put the snook into shock where they float to the surface in a dazed manner. 
Mature snook do not travel great distances. However, they leave their overwintering locations in the creeks and near fresh water rivers with low salinity and migrate towards the inlet spawning grounds in the late spring, where they remain during the duration of the summer.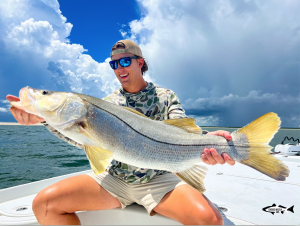 The wintering grounds provide sanctuary during the cold weather where they tend to be very lethargic and vulnerable to predators like bottlenose  dolphins and people. It's not un-common to have a dolphin swim up to the boat and eat a snook you are hooked up to. 
Captain Austin has been lucky enough to fish these waters since he was a little boy. Over the the years, he's seen snook fishing change drastically. In our area the biggest threat to snook is hard freezes when air temps plunge into the 30 and stay there for a prolonged period of time. Lucky for us we haven't had any hard freeze's in a long time and the snook population has never been better! With the exception of one or two fish, charters in the last week didn't catch any slot sized snook as  they were all over 32 inches!
Our Ponce Inlet fishing charter clients have also been getting in on the solid red fishing. Charters are catching fishing ranging from 25 inches all the way to 40 inches.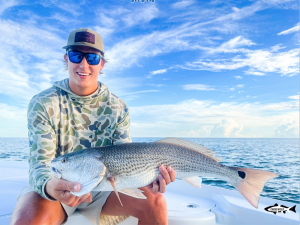 Smaller slot sized redfish are very common   this time of the year. In years past, clients were allowed to keep one fish per angler but new redfish regulations do not allow any fish to be kept. Click here for more info on the new redfish regulations in our area. We are in favor of the new regulations as it will give our redfish populations a break and allow future generations to enjoys this amazing fish.
We want to give a big shot out to our Captain – Austin Campbell. This past weekend he and a group of clients took 2nd Place in a local redfish tournament. The tournament was held out of New Smyrna Beach and  targeted redfish. The tournament was based on how many redfish and their combined total length. They caught a total of 31 redfish with a total length of 910 inches for an average length of 29.35 inches.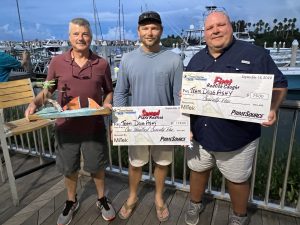 Captain Austin did all this with a broken left hand. Just imagine what he would of done without the injury! 
We hoped you enjoyed the report and if you are are interested in fishing with us, please call or text Captain Austin at (386) 689-9056. Until next time – tight lines!