Growing up in the New Smyrna Beach Area, Captain Austin has been fortunate to fish on all kinds of boats. Fishing the New Smyrna Beach and Ponce Inlet area he needed a boat that could fish in all types of environments, from the inlet and off the beaches, to the intracoastal and the shallow water flats.
What type of fish will you be targeting? For example when fishing for cobia a tower/crows nest is a must.  Being up higher gives you a great advantage when sight fishing for cobia, tripletail and tarpon.
He also needed a boat that would be comfortable for himself and clients alike as sometimes long runs were required to find trophy fish.  For Captain Austin, the decision was easy – he fishes on a 24 ft Yellowfin Bay Boat with a crows nest.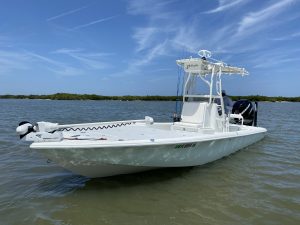 Fishing in the Indian River Lagoon how important is the brand or type of boat when fishing?
Like all answers it depends on the circumstances- Probably the better question to ask is – how serious are you about fishing?
Many serious anglers and guides turn to Yellowfin Boats.
Yellowfin boats are some of the best well-built boats utilizing the highest quality materials by expert craftsman and each one is custom-built. They cost quite a bit more than similar fishing boats, but the fishability they possess cannot be denied!
Captain Austin runs a 24 ft Yellowfin Bay Boat powered by a 300 Hp Mercury Verado. The boat has a large casting deck with plenty of storage below and the rear jumps seats in the back make rides to and from the fishing areas very comfortable.
When Fishing in the Indian River Lagoon and surrounding beach areas, anglers need a fast and versatile boat that can allow them to target multiple species in a day. Live-bait fishing requires a large live-well that can handle an assortment of baits. Captain Austin's Yellowfin has a very capable live-well that allows the water to be continually oxygenated which keeps the bait alive and frisky which is vitally important when targeting trophy fish like redfish, tarpon and snook.  
How many people can go on the boat?
At 24 ft Captain Austin's boat can safely and comfortably accommodate 4 anglers.