Types of fish to catch in New Smyrna Beach
Hey it's Captain Austin once again bringing  you the fishing report for the Edgewater, New Smyrna Beach and Ponce Inlet areas.  This past month the fishing has steadily gotten better.  One of the big reasons is the bait. We are seeing large schools of mullet especially in the backwaters. The mullet are perfect bait sized (4 to 8 inches) and on certain tides they become very active. With all the mullet around the trout, jacks, redfish and snook are never far behind. In addition to the mullet, the shrimp are showing up in good numbers. This is especially apparent when you fish around lighted docks. When fishing the docks, expect to see mangrove snapper, trout and snook all smashing the bait!
Finally the cobia showed up for a few days this past month with many anglers getting in on the action.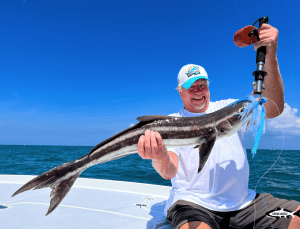 As we mentioned before, cobia fishing can be more like hunting than fishing at times. You spend most of the day scanning the water looking for manta rays, turtles or anything else floating around. If you are lucky, you may have as many as a dozen cobia trailing behind a  manta ray and that's when the real fun starts. You want to cast your bait or lure to a spot in front of the ray where you don't snag or spook it.
Our two old standbys, redfish and snook become more consistent and easier to catch in May. Hopefully, we will see some of the biggest snook of the year being caught in the next few months.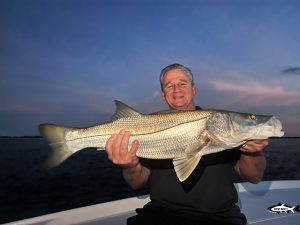 usual the key to catching both is the tides. Moving water flushes bait out and the redfish and snook wait to ambush the bait in many places along the intracoastal and in Ponce Inlet. Snook are very intelligent and they use their surroundings to their advantage. When fishing near any type of structure, always understand that once you get bit, that fish's goal is to get you hung up. Snook are masters of this!
One type of fishing we have developed over the years is fishing for goliath grouper.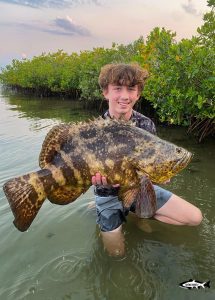 Goliath grouper are the largest grouper on the planet with the largest one caught here in Florida weighting in at 680 pounds!  Fishing for these amazing grouper peaks here in the spring and summer and we have been fortunate to catch some real nice ones the last couple of weeks.  Warning: You better eat your Wheaties before you decide to tangle with one of these bad boys! If you've never caught a big grouper we'd love to take you out. 
The types of fish to catch in New Smyrna Beach is a long list and since we fish only inshore and nearshore we will keep the list shorter. This is in in no particular oder: 
(1) Redfish
(2) Snook
(3) Tarpon
(4) Black Drum
(5) Sea Trout
(6) Mangrove Snapper
(7) Triple Tail 
(8) Kingfish
(9) Sheepshead
(10) Goliath Grouper
I could list a dozen more but, these 10 are  probably the most commonly targeted by fisherman inshore and nearshore. I think we are truly blessed to have so many options when it comes to species of fish to target. With the different seasons come different species so it's probably a good idea to ask a knowledgeable captain what's been biting. 
Call or text us at (386) 689-9056. Make sure you check out our fishing report every month here and at East Coast Current Magazine where you can pick up a copy any where from Oak Hill to Ormond  Beach.