Fishing Guides in Ponce Inlet - Fishing Report
Hurricane season is officially over and boy are we happy about that!  It's been one of the worst seasons for us in over 10 years. Lets hope we don't have to deal with another year like this. ever!  From the damaging winds to the crazy amounts of rain, it definitely makes fishing harder and less enjoyable. However, if you lived in Florida for any amount of time you know how to deal with hurricanes and understand it's part of the Florida lifestyle. We Floridians are a hardy bunch and alway build back better. That last phrase sounds familiar! 
Late Fall Fishing Report
As we transition from the fall baitfish run to late fall and early winter, the types of fish we see changes a little. Tarpon though still around, become scarce in colder weather. Tarpon prefer water temperatures in the mid 70s to 80s.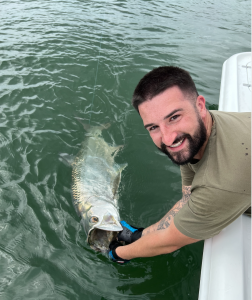 We are hooking a few fish around the inlet and our anglers are always surprised when they see one of these silver missiles  fly through the air!  Tarpon are without a doubt the most prestigious of inshore gamefish due to their outrageous acrobatics, tremendous strength and blazing speed. It is important for small boat  anglers to plan ahead on how to react quickly to a hook up, especially if the tarpon decides to run for distance waters or, worse jump into the boat!
Snook are a very predictable species in their migratory patterns. Like the tarpon, snook are not  fond of cold water and will seek out areas where the water temps are warmer and more stable. This means they can move out of their normal areas and head either offshore to deeper water with structure or to the backwaters. Knowing when and where the snook go is vital to targeting them but even then it doesn't guarantee they will bite. In some weather conditions the snook simply just shut down to conserve energy.
The tide plays a major role in the best time to fish for snook in Florida.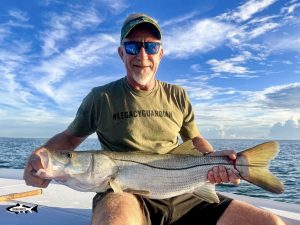 Snook are an ambush predator, meaning they often sit under cover waiting for the best time to ambush their prey. They also use the current to their advantage, positioning themselves around shoals and inlets as the current pushes baitfish to them. This makes the best tide to catch snook in Florida to be an outgoing tide. This is especially true of the days around a new or full moon, as the tides are at their highest and the current is at its greatest. 
Fishing Guides in Ponce Inlet
With winter about a week away, we can expect extremely low tides which can make winter a challenging time of year to catch fish. Experience has taught us that as long as we don't get major cold fronts the opportunities to catch fish are still abundant. 
Our winter target species changes up a little.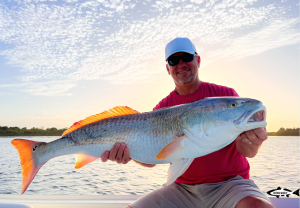 The big reds are a mainstay in our area and they are always around to catch. For the most part the spawning of the reds is over and the fish go back to doing what they do best and that's eating!  We start to see other species fish being caught. Sheepshead  become more common. When it comes to actually catching these fish, you're in for a challenge. Sheepshead are known to be cautious. They'll take a good long look at your setup, and if they see anything out of the ordinary, you're out of luck. This makes the art of disguise essential, along with some good old patience. It really is like catching a convict!
Hope you enjoyed the report and stay tuned for our next one end of this month. And as always we'd love to take you out fishing. Call or text us at (386) 689-9056