Happy New Year to everyone out there!  We are super  excited to be part of the East Coast Current Magazine.  It's a Volusia County resource guide that gives you a heads-up on what's going in our area. We will be writing the fishing report every month so check us out there. This is the article that will be put in the February Edition of the magazine. Please make sure you pick up a copy every month. 
About Austin Campbell
Born and raised on the water, I have been fishing locally here in New Smyrna Beach ever since I could hold a fishing pole. In 2019, I decided to make it a career and became a full time licensed fishing guide. I'm very fortunate to spend over 200 days  a year on the water and I will do my best to provide you with the most up to date fishing report. Fishing is much more than a hobby for me, it's my passion and way of life. Next to my awesome wife and daughter, it's  probably the most important thing in my life!
Current Fishing Report
This past few weeks it's been unseasonably cold but, a slight warm up lately has seen the fishing become more consistent with our typical winter species being caught. Sheepshead and weakfish have been around and I expect them to be plentiful in the coming weeks. If you don't know, weakfish are a close relative of the speckled trout and a member of the drum family. They are smaller than sea trout and are a popular game fish up north in the Mid Atlantic area. Here in our area, we often catch them off the beach and in the surf using shrimp as bait. They are super fun to catch especially for kids and they are delicious to eat.  Most of the sheepshead we catch are in and around structure such as pilings, docks and rocks.
Big black drum are being caught with some fish landed pushing 60 lbs!  These fish are bulldogs and are a worthy adversary on light tackle. Mostly bottom feeders, these fish will never pass up a shrimp or crab.  Snook and redfish are still around and as long as we don't get any strong cold fronts we should continue to get some nice fish caught around Ponce Inlet.
As you probably know from reading past fishing reports, redfish are what makes our area famous. Mosquito Lagoon which is part of the Indian River Lagoon is a hotbed for big redfish.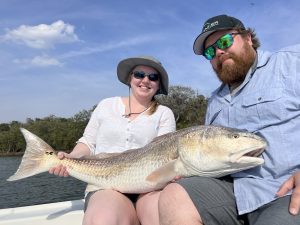 Traveling North from Mosquito Lagoon you reach Ponce Inlet which is another excellent spot to catch big redfish. The Inlet is an area where huge concentrations of baitfish like mullet, pinfish, croakers and crabs congregate in huge numbers. This is another reason we are the shark bite capital because all that bait is what attracts the sharks. With spring right around the corner look for shark activity to increase. We can do shark fishing charters and specialize in catching multiple species. 
Hope you enjoyed the report and check us out for more Edgewater Fishing reports.
If you are interested in coming fishing with us call or text at (386) 689-9056, we'd love to take you. Ask for Captain Austin.