Snook Fishing in Edgewater - Spawning Season
Captain Austin with Chews Wisely Fishing Charters here once again bringing you the fishing report for the New Smyrna Beach area.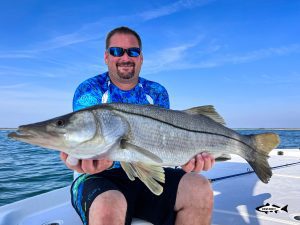 June fishing report is easy to write because we have so many options on the fishing front. It's before the busy hurricane season and after the last of the strong cold fronts. Light breezes mean calm seas and consistent weather which is what I love. From inshore to off the beach we have a lot of options. With good weather we can run off the beach looking for everything from bonito, cobia, kingfish, tarpon and sharks.
The snook fishing in  Edgewater and New Smyrna area this time of year sees a big transition of where the large fish start to move. Snook fishing has really been good lately with fish everywhere from the lagoon to the inlet and everywhere in between. Our charters have caught some over slot fish (larger than 32 inches) and I expect the bite to only get better. There are two primary concepts to consider when snook fishing our area. The first is migration: when and where snook are moving. The second is feeding patterns: what and why snook eat. During the Spring, snook stage at inlets where the backwater meets the ocean. They are spawning and waiting for the water to warm up.
Speaking of sharks, this is one of the best times of the year to catch one and you'd be surprised where you can catch them. From the beaches to the backwaters, sometimes it feels like they are everywhere including some very shallow water! The sharks can be a serious problem when fishing for redfish and snook and over the last month we have lost a lot of fish.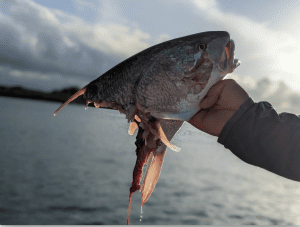 Redfish our other "go-to fish" are also becoming very active and we have caught some real big fish the last month. Redfish come in all sizes here in our area and depending where you fish, you can catch slot sized fish (18-27inches) in the Mosquito Lagoon and backwaters. Closer to Ponce Inlet we come across some real "trophies" of 30 pounds or more.
Hope you enjoyed the report and as always we'd love to take you fishing. Call or text us 386-689-9056..